Follow us on Instagram and view our showcase projects!
We dare to say that the BUOYANT® cable wine rack system is the worlds most adaptable wine storage system. The combination of wood and metal offers many possibilities for customizing your own unique wine display. The BUOYANT® system is sturdy, fits into any space and is an ideal wine storage system whether you are a business or a homeowner building a custom wine room, a wine closet, a wine wall or just looking for a beautiful way to display your wine somewhere in your home. Our system can be installed from ceiling to floor and we also offer a series of wall mounts and frames. All system hardware are available in chrome and matte black and the wooden blocks can be custom stained. BUOYANT® wine racks aren't just products, they are pieces of art and whether they are full, half full or empty of wine bottles, they are beautiful and the focal point of any room. "FINE WINE DESERVES A FINE SPACE"
Learn More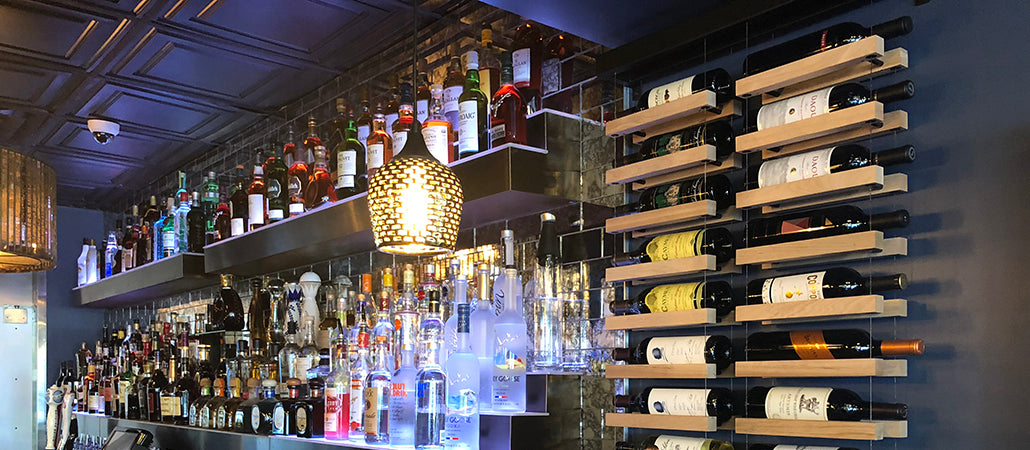 BUOYANT® cable wine racking system is a contemporary wine storage system for the quality conscious and modern Wine Enthusiast. BUOYANT® is more than a system. It is a unique, aesthetic and versatile design concept for wine storage with flexibility as a fundamental quality!
When it comes to showcasing your wine the modular BUOYANT® cable wine system offers the greatest creative freedom of all wine storage systems on the market. The spread of bottles can be adjusted vertically, giving clients the possibility to control the visibility through the system. Sections can be built using a starter column and any number of extension column needed. Another great feature of the BUOYANT® cable wine racking system is that the number of bottles in each column can vary and cables are easy cut to height required. This quality gives great freedom in where the system can be installed and the offers the possibility to create patterns and shapes using the wine bottles at display. Columns can be arranged label-forward or cork-forward.